Recycling
Londonderry Township Recycling Center
Yard Waste Recycling
The Recycling Center is located on Sunset Drive, across from the Public Works Building, and is open year round to all Londonderry Township residents. A permit is required and may be obtained at the Londonderry Township office located at 783 S. Geyers Church Road. The permit is free, proof of residency is required.
There is an area for Grass Clippings/Flowers/Plants and Leaves. The Public Works employees will recycle this waste into compost, residents may take from the compost pile when available.
Please be considerate and empty your yard waste bags at the appropriate pile and throw the empty bags in the recycling container provided.
Address:
The Recycling Center is located on Sunset Drive, across from the Public Works Building
Hours of Operation:
OPEN: April through October: Monday - Saturday, 7:30 a.m. until 6:00 p.m.
OPEN: November through March: Monday - Saturday, 7:30 a.m. until 3:00 p.m.
Conewago Township Recycling Center
Dauphin County has designated Conewago Township as the local recycling center where residents may take household goods that are recyclable. There is no permit required and no charge for using the recycling center.
An efficient way to begin a recycling program at your house is to designate an area for several trash cans or large plastic containers labeled for plastic, paper and aluminum. When the containers are filled take them to the Recycling Center and sort them into the appropriate bins. This is a great way to reduce what is going to the landfills and improve our environment.
Address:
3279 Old Hershey Road, Hershey
534-8556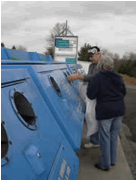 Items that may be brought to the Recycling Center are:
Magazines/Office Paper/Junk Mail/Phone Books

Corrugated Cardboard & Boxboard

Newspapers & Inserts

Aluminum & Steel Food & Beverage Cans

Plastic Bottles (with Recycling Symbols on them - see photo)
Conewago Township Recycling Bins:
What Can Be Recycled?
Newspaper & Magazines (Keep loose)

Telephone Books (Keep loose)

Corrugated Cardboard (Break down and keep loose)

Plastic (can you find those triangle images? Food and beverage containers, keep loose)
Aluminum & Bi-Metal Cans (Keep loose)
Rules
DO NOT place recyclable materials outside of the bins.

DO NOT leave behind your trash or litter.

DO NOT try to recycle items that are not accepted.

DO NOT play on containers.

DO use the recycling center, which is open for your convenience, everyday, 24-hours.
Questions or Comments?
Call the Dauphin County Recycling Hotline:
(717) 780-6351
M-F 7:00AM-4:00PM
Dauphin County Recyling Center
Electronics – Appliances - Confidential Shredding
The Dauphin County Recycling Center is where computers, etc. may be taken. Some of these centers charged a fee in the past. However, since Act 108 of 2010, known as the Covered Device Recycling Act, became effective on January 24, 2013, these centers can no longer charge for covered devices.
$20 charge to remove Freon
$5 charge to shred paper
Address:
1620 South 19th Street, Harrisburg, PA 17104
(717) 982-6772
Hours of Operation:
Monday, Tuesday, Thursday, Friday 8:30 am - 4:30 pm
Wednesday 8:30 am - 8:30 pm
Saturday 9:00 am - 2:00 pm
CLOSED ON HOLIDAYS