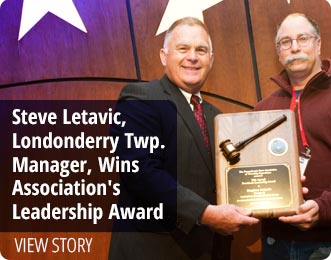 Londonderry Township is a rural community located in the Southern end of Dauphin County, Pennsylvania between the towns of Elizabethtown and Middletown. Currently consisting of 5200 residents and over 75 small businesses, the rural appeal has been maintained between the rolling hills and farmland.
Londonderry Township Announcements
Posted Monday, January 25, 2016
Department of Health Provides Important Tips to Help Pennsylvanians Stay Safe in the Aftermath of Historic Winter Storm
Harrisburg, PA – The Pennsylvania Department of Health is reminding residents affected by the weekend's historic storm to follow some important tips to stay healthy and safe, particularly while removing snow in cold temperatures.
"Cold weather puts an extra strain on the heart. If you have heart disease or high blood pressure, follow your doctor's advice about shoveling snow or performing other hard work in the cold," said Secretary of Health Dr. Karen Murphy. "When removing snow, make sure you stay as warm as possible and call 911 if you or your loved ones have any heart attack symptoms."
The major symptoms of a heart attack are:
· Pain or discomfort in the jaw, neck, upper abdomen, or back;
· Feeling weak, light-headed, or faint;
· Chest pain or discomfort;
· Pain or discomfort in arms or shoulder;
· Shortness of breath;
· Unusual or unexplained tiredness;
· Nausea; and
· Vomiting.
If you have to do outdoor chores, dress warmly and work slowly. Your body is already working hard just to stay warm, so don't overdo it. Follow these additional tips to make removing snow safer:
· Consider shoveling in shifts instead of all at once;
· Take breaks and drink water to prevent dehydration;
· Push snow instead of lifting it – if you must lift, bend your legs and not your back;
· Avoid twisting motions that can stress your back; and
· If using a snow blower, follow all safety instructions and stay aware of others who may be nearby.
Exposure to cold temperatures, whether indoors or outdoors, can cause serious or life-threatening health problems. Infants and older Pennsylvanians are at greater risk of serious cold-related health problems and should be checked frequently to ensure they are warm enough during cold weather.
If you have to go outside:
· Dress warmly and stay dry;
· Make outdoor trips brief and dress warmly;
· Cover your ears, head, mouth, and face;
· Never ignore shivering - it's your body's way of saying you're losing heat and it's time to return indoors;
· Know the symptoms of hypothermia and frostbite:
o Hypothermia causes shivering, exhaustion, confusion, memory loss, slurred speech or drowsiness in adults and bright red, cold skin and very low energy in babies.
o Frostbite causes a loss of feeling and color in affected areas and symptoms include a white or grayish-yellow area of skin, numbness or skin that feels unusually firm or waxy.
o Seek medical attention if it is suspected that you or your loved ones have hypothermia or frostbite.
Visit www.health.pa.gov or call 1-877-PA-HEALTH (1-877-724-3258) for more winter weather safety tips.
Posted Wednesday, January 20, 2016Posted Tuesday, October 20, 2015
Helps Veterans & People with Disabilities with their Transportation Needs